I'll take two at that price!!
I don't pretend to be a fashionista.
During the week, I can be found in multicolored scrubs from 8-3. In the afternoon and weekends, it's usually blue jeans and a comfy t-shirt. If I want to scorch the retinas of other mall shoppers, then I break out a pair of shorts. Rarely do I dress up and even then it is something worth alerting the media if I am seen publicly in a dress. Questions surface about what funeral I am attending or if I am appearing in court for some unknown reason (still hasn't happened YET).
For my summer wardrobe, I'll probably invest a whopping $100-150 smackaroonies for some new shorts, a couple shirts, maybe a skirt or two, and if I feel sassy, some sandals. Close toed sandals, of course. Who wants to see ugly feet in daylight?
BUT today, I learned that my wardrobe is beyond cheap.
While waiting on a patient to finish her 'personal' business, I watched the fantastically annoying Liz Hurley unveil her new beachwear. Rail thin models with outie belly buttons paraded around in Liz's vision of what bikinis should be: strings with semi-precious gemstones dangling at the hips.
When asked about her new designs, she shared some priceless insights: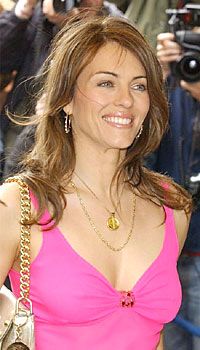 "My bikinis can be purchased separately for those that don't want to show their bottoms."
GEE THANKS FOR THAT, LIZ.
"You can go straight from the beach to the clubs with this combination."
DO THEY HAVE A PLAYGROUND FOR THE KIDS?
"My beaded shirt is just fabulous. It runs around $400 but all the work by hand. Quite affordable, don't you think?"
$400! FOR A BEADED SHIRT? ARE YOU HIGH, LIZ?
Call me crazy, but fashion designers have no clue to reality. Who really wears something that costs as much as a car payment? Or rent? And who thinks that red and hot pink really matches? I may be a total nerd, but even I know that stripes and plaids are a tacky combination. I'd like to see Oprah or the Today Show feature NORMAL clothing at NORMAL prices. Not $400 throwaway shirts or swimsuits, not $300 capri pants or tank tops, NORMAL prices. Think Target to Dillards on sale. That's what most of the American public can and will pay. We all aren't Paris Hilton, you know?
What can I say? I still like high water pants.
By the way, the tank top she is wearing: $90.