Cowgirl Tish and the AntiChrist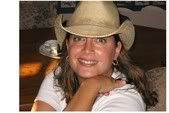 Somewhere, there are pigs flying over a field of crow pies just waiting for my appetite. You see, I am not a 'country' person. Sure, I like country music and have attended many concerts by boot wearing stars, but me? Nope. I like my khakis, high water pants, or the ever so comfortable sweat pants. My friend Laurie had a hat like this and wore it to the Los Lonely Boys concert we took our families to in May. Maybe I bought it because it reminds me of her, or maybe I just wanted to look cool, but whatever the reason, I thought I'd share the moment with all of you.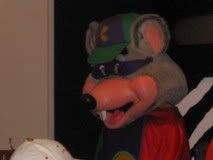 Now for the AntiChrist. Where else can Lucifer get his hands on our children, our money, our time, OUR SANITY?? Under the guise of a sweet mouse that can juke and jive like a rapper from the 80's, Chuckie Cheese is slowly infiltrating our lives and our childrens' minds. It's not enough that his minion serves barely edible pizza, but their hook of 'prizes' for winning tickets that are purchased by what? Our money. Follow me here - they take our money to hypnotize our children so that their incessant begging for more tokens will eventually cause rampant insanity and possible Satan worshipping. This is no time to dally at Chuckie's pitiful excuse of a salad bar, people. He is here for one thing - the souls of our children. Exhausting our bank accounts and thinning our hairlines is just icing on the cake to him. TO protect yourselves and the precious but mindless offspring, do not entertain even the thought of attending a party, a Saturday event, or GOD FORBID, an end of the year T Ball party.
Remember, it's you against the mouse.